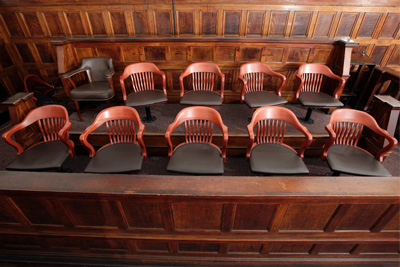 Trial Jury
Your first day of jury service
You will receive information from the clerk's office about parking, security, and other topics with your summons. Jury selection often takes place on the first day of a week. If you have a question about weather-related or other unscheduled closings, delays, or cancellations, call the juror information line for the county where you will be appearing.
When you arrive at the courthouse, you will go through an airport-style entry screening system. Your handbag, backpack, briefcase, and all containers will be x-rayed. Do not bring any potentially dangerous or disruptive items into the courthouse, including objects like scissors, nail clippers, and knitting needles.
Items that are allowed in the courthouse
You are encouraged to bring your own reading material because there may be waiting periods before being selected for a jury or before the jury is impaneled, or you are released. You are discouraged from bringing a personal laptop or tablet computer because the court does not have a secure storage area for jurors' possessions.
You may bring your cell phone to the courthouse, however, all phones and electronic devices must be turned off before you enter the courtroom. If you are selected for a jury, you are not allowed to have access to your phone while serving as a juror- see Administrative Order JB-20-01.
Some, but not all courthouses have vending machines. You may bring a beverage or snack to court if you wish. Courthouses have public wireless internet access.
Process
When you arrive in the jury waiting room or area, you will watch an introductory video on jury service and be provided a Juror Handbook for reference.
The judge [and attorneys involved in the case] will provide more specific information on the expected length of an individual trial. Jury trials and the jury selection process are vastly shorter in Maine than in other states. In most instances, the selection process for several panels will take only a half-day; the majority of trials last only one-three days. Judges will often release jurors who have served on more than a couple of jury panels.
For most, jury service consists of only one day of jury selection. Most jurors are not selected for a jury panel. Regardless of the duration of your service and whether you are selected for a panel, the court appreciates your willingness to perform this vital civic duty.